Products
Special Missions Aircraft Integration
AEVEX performs innovative aircraft system design and payload integration, with specialized flight test support. Our team includes highly-certified experts across multiple engineering and technical disciplines, with in-house facilities and resources for full system fabrication, assembly, testing, integration, and maintenance/repair.
Racks & Workstations
AEVEX, partnered with Helios Aerosystems, provides custom ISR interior modifications rapidly and efficiently, using blocks of pre-engineered and fabricated design. The modules fit together to provide a custom solution with minimal schedule and cost. They can also be reconfigured as the mission evolves.
All modules are forward/backward compatible and can ship in off-the-shelf environmentally-hardened cases. This can facilitate fully-integrated spares, roll-on/roll-off capability, short-term flight test, and phased system expansion.
All modules are designed and substantiated to meet 14 CFR Regulations. Each customer's custom configuration can be shown to comply with applicable Part 23, 25, 27, or 29 regulations.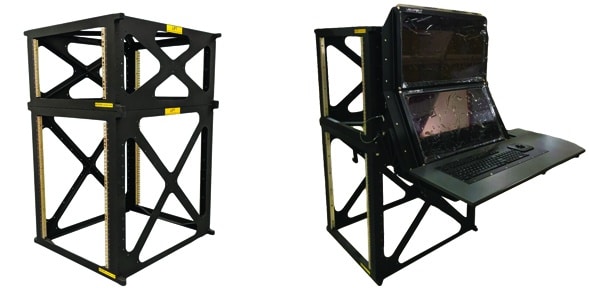 Stackable Rack System
14U, 10U and 6U Modules available (or custom)
Integral, machined handles
Approx 24 lbs per module
Fwd-facing, or side-facing capable
Stackable up to 2 units tall, in any order
Replaceable, COTS-interchangeable server rails
Bolt-on console modules available (shown above)
Console module designed to fit 17-24″ displays (or custom)
Core Mission Rack
14U capacity
Expandable via seat tracks on top (shown with mission pallet installed at left)
Flip up handles
Damper provisions for floor-mounted LRUs
Variable-width seat track attachments for various aircraft mounting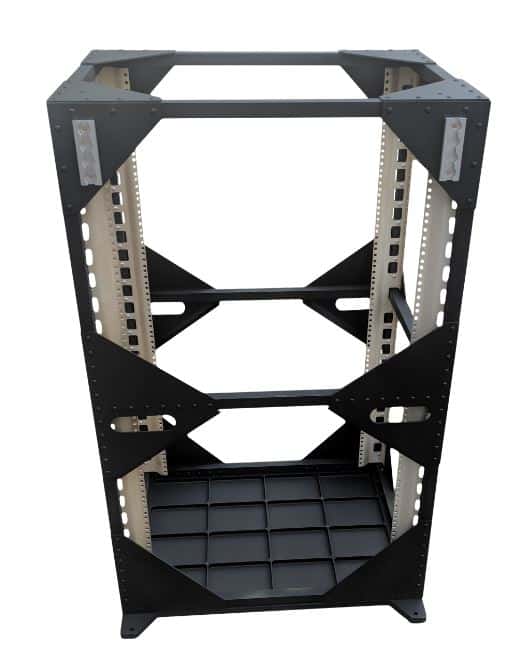 Large Mission Rack
24U tall
Seat track sections for accessory mount or lifting shackles
Fore/aft facing only
Integral handles
Non-removable rails
Vertical Mission Rack
Wall-hugger design, provides 7U vertically mounted (does not protrude into King Air aisle)
Integral, machined handles
Customizable footprint for various aircraft mount
Seat tracks on top for expansion (consoles, radio pallets, etc.)
The AEVEX Engineering & Technology team can also procure/fabricate and assemble various custom equipment and instrumentation for flight test and other applications, such as:
Pressure Management Systems
Flight Data Recorders
Racks and Enclosures
Operator Workstations
Wiring Harnesses
Cable Assemblies
Network/System Architectures
Power Distribution